Ok, there was a time in my life when I wore nothing but leotards.
There, I said it.
I needed to make this confession today.
Purple leotards with pink tights. Pink leotards with purple tights. Short sleeves, polyester, spandex blends stretched tight over my belly, squishing the baby fat desperate to escape the confines of the fabric out  the seams and topping the whole thing off with leg warmers, velcro shoes and a fuzzy ponytail.
I was a sight to behold, a wild-child, a weird kid who had no explanation really for her choice in every day attire except, I can imagine, simply that today, I wanted to wear my leotard.
And tomorrow, I want to wear it again.
Maybe it was because my mom was a dancer and an aerobics instructor and I had seen the woman, long and lean and graceful, rocking her own Jane Fonda attire while she lead a class to the tune of the Flash Dance soundtrack.
Or maybe it was because my big sister was a ballerina. A tiny, delicate ballerina who wore beautiful sparkly tutus and toe shoes and twirled and jumped and leapt elegantly across the stage under the lights.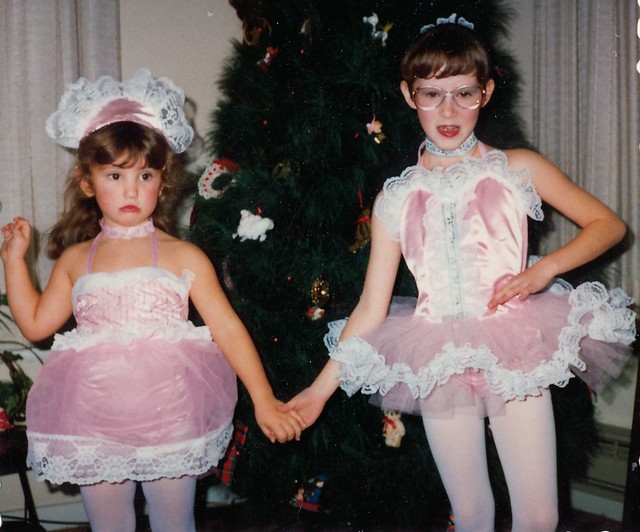 Or maybe I just liked the free movement spandex provided while I drug my blankie through the grass on my way to the sandbox in my grandmother's back yard.
I'm not sure, because I was too young at the time of my leotard obsession to hold on to the reasoning so that I might go back in adulthood and analyze it. But I'll tell you this, even though I was only three or four years old, it was pretty clear I was inheriting none of that grace and elegance thing. But it didn't matter to me. In my mind I was something. In my mind I was leaping and twirling right alongside my big sister on that big stage. In my mind I was Jane Fonda.
Of course I was also digging in the dirt, popping heads off of dandelions, peddling my trike towards gramma's, making mud soup, bossing around the neighborhood boys, singing Sunday school songs at the top of my lungs, making up the words as I went along and hunting and tracking ladybugs in the short grass.
All in my trusty leotard.
Can you imagine the looks on my grandparents' faces when my parents brought their girls over for Easter dinner, their oldest in perfect pastels and frills and the youngest traipsing around the egg hunt looking like Jazzercise personified? That was a cute family picture.
Can you imagine what my parents thought when their three or four year old woke up one day and declared it was time to put on her leotard, obliging, I'm sure, because I put up a fight, or maybe, because they were always free thinking supervisors and probably didn't see the harm in a day in a spandex. But that day turned into another day and on to the next, and, well, you know the rest…
Anyway, eventually I moved on. Probably to my Wonder Woman costume, but that's another story. I bring this phase of my life up today only because I was reminded of it by my Texas cousin last week via a Facebook post about her daughter.
It looked like this.
"A insists on wearing her leotard every day now. You went thru this too, right?:)"
To which I replied something like: "Yes, and I hope this similarity doesn't worry you…"
Now, my cousin M and I were born a month apart and spent our childhood dressing alike (after my leotard phase) and trying to convince the world we were twins. It made sense to me, I wanted to be just like her, and still do.  She's beautiful and sweet and funny and always pulled together.
She was a perfect long french braid. I was a fuzzy ponytail with plastic barrettes keeping the flyways at bay.
She was a Christmas dress. I was an oversized holiday themed puffy paint sweatshirt with stirrup pants.
She was flute playing pretty notes. I was a guitar playing some weird song I just made up…
She is a math teacher. I'm a long winded-story…
And we get along perfectly.
Then along came baby A…
Baby A, who's not really a baby anymore because she insists on riding her pony Pearl all by herself, and yes, Uncle G, she can let the cats out of the barn whenever she wants.
Baby A who sprays herself in the face with a garden hose and thinks it's a riot so she does it again and again.
Baby A who has her own guitar and uses it to accompany herself as she sings long songs at the top of her lungs about girls riding horses through the trees.
Baby A who's hair escapes that golden brown ponytail and fuzzes just right.
Baby A who is just stubborn enough to convince her mother every day that she should wear a leotard.
I looked at the photo, me here between the buttes of our North Dakota home and my Cousin M under the warm sun of Texas, and I wondered if the miles don't matter as much as we think they do.
That there are pieces of us in our family that surface and resurface throughout our lives, showing up in our children and their children's children in a familiar laugh, a crooked smile, a skin tone or a shape of a nose.
Looking at Baby A standing so confidently in her plastic high heels and pink leotard miles and miles away but so close to my heart, I can't help but think that maybe an affinity for leotards just runs purple and pink somewhere in our blood, alongside the place where we keep fuzzy ponytails and long-winded stories…
And to that I say, oh, Baby A, I'm so happy there's someone else out there who understands…